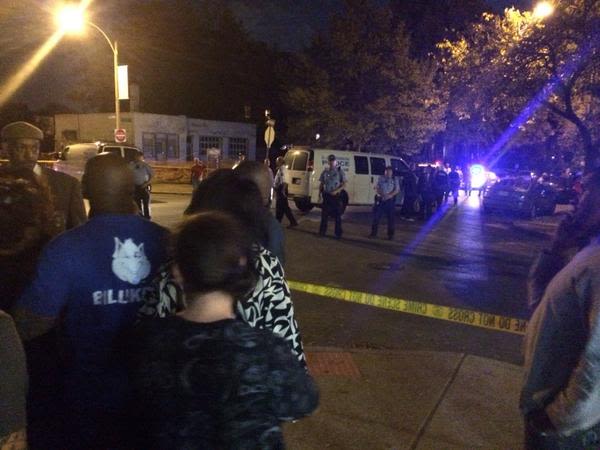 Image via @andybakertv on

Twitter
Another shooting involving a police officer just happened in the St. Louis area, and once again the details are sketchy. An officer in South St. Louis who was off-duty and working a second job attempted to do a "pedestrian check." The suspect fled, and the chase ended with the cop shooting and killing the man. But the details of what happened during the pursuit are unclear, as accounts from police and witnesses differ.
Police say the man pulled out a gun and fired at the officer, but witnesses say the man was armed with nothing more than a sandwich. Some bystanders also say the officer fired 16 times, which seems excessive regardless of the circumstances.
We'll have more as the story develops.
Update: The man who was shot and killed has been identified by family on the scene as 18-year-old Vonderrick Myer.
Update 2: Here's an official statement from St. Louis police, via Buzzfeed reporter Jim Dalrymple II:
The officer-involved shooting occurred in the Shaw Neighborhood, which is located in the City of St. Louis
An officer working department-approved secondary for a security company, wearing a St. Louis Police Officer's uniform was in the 4100 block of Shaw when he attempted a pedestrian check. The male suspect fled on foot. The officer pursued the suspect. The suspect turned and fired a gun at the officer. Fearing for his safety, the officer returned fire striking the suspect, fatally wounding him. The officer was not injured. A gun was recovered from the scene. The officer is a 32-year-old white male. He has been on the force for 6 years. The suspect is a black male believed to be 18-20 years old. As is department policy, the officer has been placed on administrative leave. The investigation is ongoing.