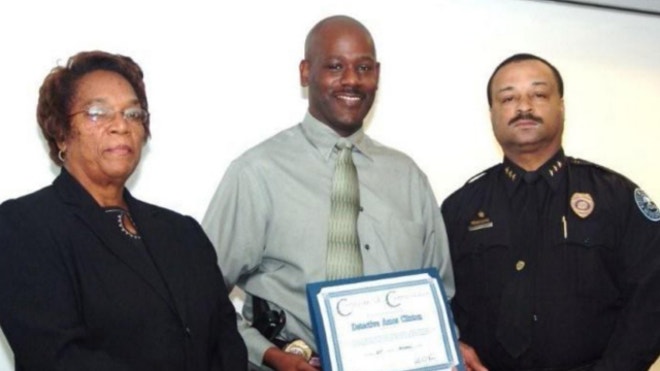 JACKSON, Miss. –
A murder suspect being interviewed at the Jackson, Miss., police headquarters shot a detective Thursday and those who came to investigate the gunfire found both men dead, authorities said.
The suspect, who was not identified, was being questioned on the third floor of the building when the shooting happened, said Police Chief Rebecca Coleman. Police did not release any details on the sequence of what happened but scheduled a news conference for later Thursday night.
The officer was identified as Detective Eric Smith, a homicide investigator.
City police spokesman Chris Mims described Smith as "a decorated detective and well-respected law-enforcement person throughout the state of Mississippi."
"He was in the processing of questioning that suspect," Mims said of the detective. "Other officers in the police department heard gunshots ring out and when they went to the interview room, discovered that both the suspect and the detective were deceased."
The police headquarters was on lockdown Thursday night, Mims said.
Jackson City Councilman Chokwe Lumumba was in police headquarters with the mayor afterward and said Smith was shot by the suspect. He did not know how the suspect ended up dead.
"I understand there may have been more than one police officer in the room," Lumumba said outside the police building.
The headquarters was blocked off and surrounded by crime tape. Law enforcement and Jackson city officials rushed to the scene.
Mims said the Mississippi Bureau of Investigation will take over the investigation, which is standard procedure.
"This is a very tragic situation," he said. "The entire city of Jackson and the Jackson Police Department family are all hurting. We are asking for the public's patience while we find out why this tragic incident happened and how it happened."
At least 30 Jackson Police and Hines County Sheriff's office vehicles were haphazardly parked across multiple, major downtown Jackson streets. Officers were visibly shaken, wiping their eyes, and Assistant Chief Lee Vance could be seen comforting Chief Rebecca Coleman at one point, putting his arm around her shoulder outside the building. A 2008 photo on the department's website shows a smiling, fit Smith, in a shirt and tie, accepting a certificate of commendation on behalf of a detective, with Coleman and Vance on each side of him.
Lumumba, who is a lawyer, said Smith was fairly new to being a homicide detective and that he first met Smith in the late 1990s. The then-officer had testified on some of Lumumba's cases.
"I had great respect for his work and his integrity," Lumumba said. He added that Smith's stepson had played basketball on an Amateur Athletic Union team that Lumumba worked with.
"Eric helped take young men all over the country," the councilman said. "He's a real man in every sense of the word."
Mayor Harvey Johnson, Jr. also addressed the officer's death.
"Detective Smith was an excellent officer in all respects," the mayor said. "I want everyone to keep the Smith family in their prayers and in their thoughts."
Lumumba said that Smith was married and had another son.
A monument outside police headquarters lists 14 officers killed in the line of duty -- before today.